CREATIVE MUSIC WORKSHOP – Arts Connections
Introduction and Project Election on 1:00 – 2:00 on Sunday, July 30th; Showcase 2:00 – 4:00 on Friday, August 4th, 2017 (Open to families)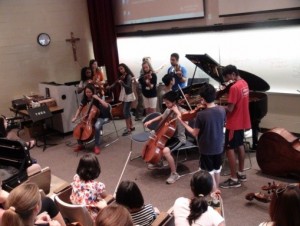 Every camper (except senior campers choosing ILMEA/Audition Prep-Class) must choose a project to work on, and let us know of his/her choice by Monday morning. Campers can choose to work alone or in teams, and will select one of the following fun and informative project options below:
Project A: Composition
Compose a piece of music that is inspired by a work of visual art (painting, photo, sculpture) or a work of literary art (story, novel, poem).

Project B: Contemporary Music

Campers learn to appreciate the textures and sound of contemporary music, and you will, under faculty guidance, explore and perhaps also create/compose a piece of your own contemporary style, new or modern music.

Project C: Music Arranging
Arranging pop songs for your instrument or chamber ensemble. You will choose a song you like, which will be subject to approval by the workshop faculty. The faculty will help you make an arrangement of it for your instrument or for a small chamber ensemble.
Project D: Videography
Create a video or a photo montage that is inspired by a piece of music.
Campers, and possibly faculty-TAs, will perform their compositions and show their music at the Showcase on Friday. Works of art will be posted in the hallways at Scholl Hall. We look forward to seeing and hearing your projects!
---
WORLD MUSIC CULTURE WORKSHOP:  "Improvisation: Keeping it Safe and Simple"
2:00 – 3:00 (Junior), and 3:00 – 4:00 p.m. (Senior) on Tuesday, August 1st
Main Presenter: Matt Turner, Lawrence University, Wisconsin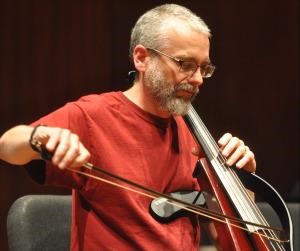 Matt Turner is widely regarded as one of the world's leading improvising cellists. Equally skilled as a pianist, Turner performs in numerous styles and has shared the stage in the U.S., Canada, Europe and Asia. Cellist, pianist, and composer Matt Turner teaches improvisation at the Lawrence University Conservatory of Music. Turner, a Yamaha Performing Artist, has performed on over 100 recordings on Ayler, Sketch/Harmonia Mundi, Nato, Illusions, O.O. Discs, Music and Arts, Polyvinyl, Penumbra, Cadence Jazz, Clean Feed, and others. His music is published with Alfred, Carl Fischer, Latham, and Alliance Music. He currently performs and records with Hal Rammel, Bill Carrothers' Armistice 1918 ensemble, Randy Sabien, Karmadog and with the Jean-Marc Foltz Trio. 
This workshop will introduce improvisational techniques with a focus on exploring the instrument to create soundscapes, Arabic taqsim, and riff pieces.